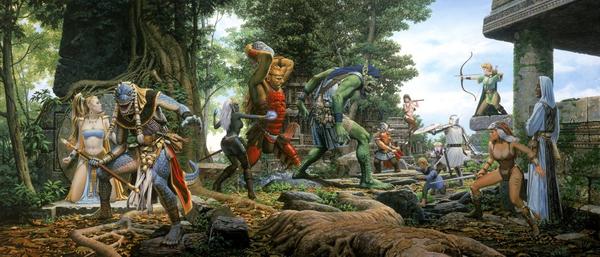 EverQuest: The Ruins of Kunark was the first expansion for EverQuest, introducing the continent of Kunark and the Iksar as a playable race.
New Content
Edit
Kunark, a new continent and home of the Iksar.
The Iksar, a new playable race of lizard people introduced with the expansion, who have a number of racial advantages, including the ability to stay underwater for longer periods of time, additional regenerative powers, and an armor bonus, balanced by the fact that they are hated by all of the other races in the game and that there are very few places they can go without being attacked. They also can not wear plate armor.
Increased the maximum level a character could attain from 50 to 60, and introduced a substantial number of new and powerful monsters for characters above level 50 to fight.
Epic quests, or quests for powerful weapons for each class.
*denotes zone added after launch of Kunark, but before Velious
External links
Edit